Cars To Florida Quality Drivers
Cars To Florida carefully selects drivers. We conduct a review of the official Driver's License Abstract for appropriate driving record, obtain a Driver's License copy and use a great group of regular drivers.  Most Cars To Florida drivers have driven numerous times over many years and some are specifically requested by name by our Clients.
Interested?  Review our process below: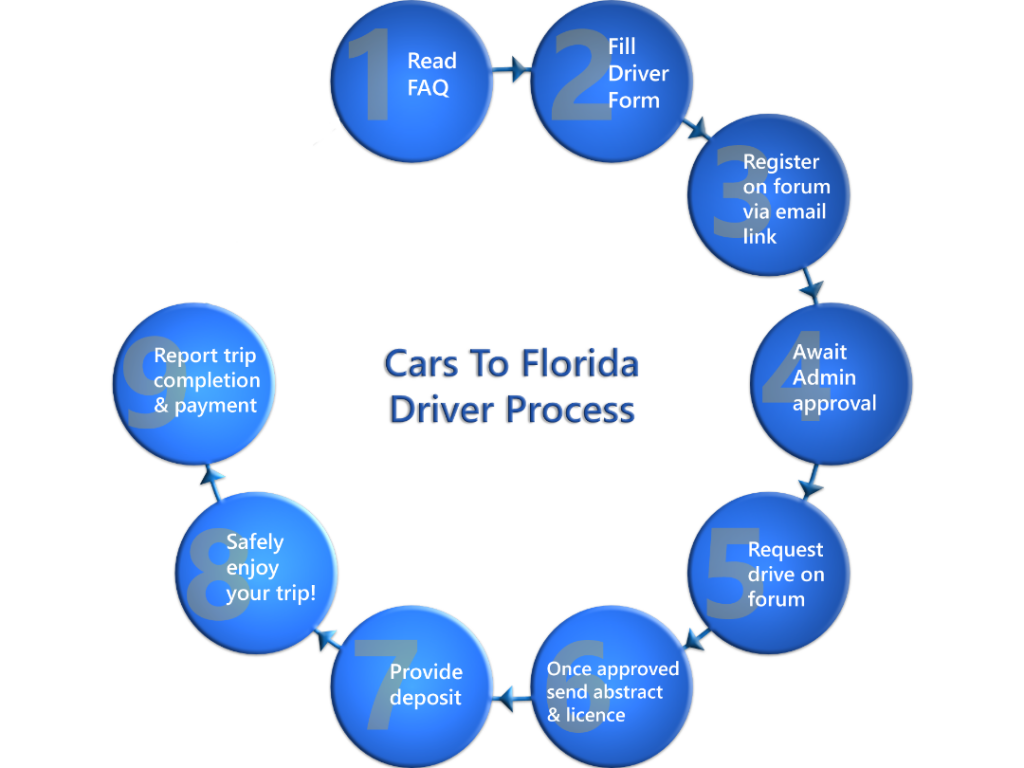 Completion of the Driver Form qualifies you for consideration into our secure Driver site.
(Note: There have been important changes to US Customs procedures. If you have been driving someone's vehicle to and from the USA (other than immediate family), you must now be a registered carrier capable of creating an electronic manifest for the border crossing into the USA. We are a registered carrier.
Entry into Canada has recently changed also.  This type of delivery service requires the use of a licenced Customs Broker and certain documents for re-entry into Canada.
If you would like to refer the vehicle owner you've been driving for to us we can make sure you are their driver at the Client's request.)
Here's the thing, our clients put their trust in us. This means we require you to have a superior driving record, several pieces of identification including a valid/current passport and free of any criminal background or any other status which would lead to border crossing difficulties.  We need to you to be an excellent communicator and friendly to our cherished group of clients.
It is important that you take excellent care of our client's vehicle and maintain it in a good clean condition.
Although we may have cars at any time to many destinations all year, the majority of our clients have their cars taken from all over Canada to Florida, Arizona and California in November, December and January and have them returned to Canada from February through May.
Our clients typically load the trunk with their personal effects so it is likely you will have use of the front two seats only. We provide all of the required documentation for the border crossing.